YOU MAY NOW ORDER YOUR CURRENT AND PAST ISSUES VIA YELLOW MEDICINE REVIEW'S STOREFRONT AT AMAZON.COM.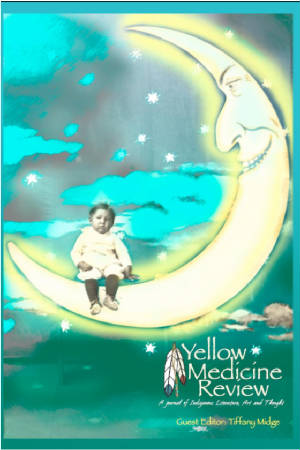 SPRING 2014
Guest edited by Tiffany Midge.
Cover art by Hulleah Tsinhnahjinnie.
Contributors are Celeste Adame, Scott Andrews, Elizabeth Ashe, Tacey M. Atsitty, James D. Autio, Scott Bear Don't Walk, Melissa Bennett, Trevino L. Brings Plenty, Jerry Brunoe, Kathryn Player Campbell, Darlene P. Campos, Vivian Mary Carroll, Jordan Clapper, Alice Rose Crow~Maar'aq, Laura Da', Sayantani Dasgupta, Jay Dearien, Susan Deer Cloud, Dana Dickerson, Misty Lynn Ellingburg, Ramona Emerson, Rain P.C. Gomez, Tammy Gomez, em jollie, Chip Livingston, Casandra Lopez, Bojan Louis, Denise Low, Carter Meland, Deborah A. Miranda, Jeanetta Calhoun Mish, R. Vincent Moniz, Jr., MariJo Moore, Dan Morris, Ruby Hansen Murray, Kole Ade-Odutola, Michael Pacheco, Kushal Poddar, David S. Pointer, Natanya Ann Pulley, Philip H. Red Eagle, Lois Red Elk, Barbara Robidoux, annie ross, Ananya Shrestha, Kim Shuck, Jim Stevens, Gabrielle Wynde Tateyuskanskan, Jonathan Taylor, Theodore C. Van Alst, Jr., Xavier Vega, Jay Hansford C. Vest, Steven Warren, Jeanette Weaskus, Adam Yaghi, William S. Yellow Robe, Jr., and Changming Yuan.